Sizing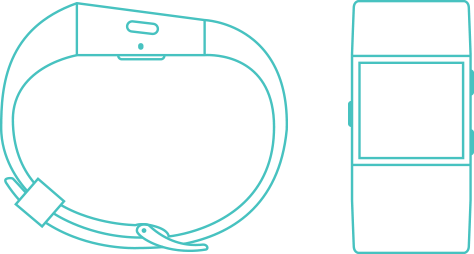 size small
fits wrists
14 - 16 cm
21 mm
size large
fits wrists
16 - 19.8 cm
21 mm
size x-large*
fits wrists
19.8 - 22.6 cm
21 mm
Sizing varies across trackers. Use this guide to pick the right fit & size up if you're between sizes.
* X-large size only available online at Fitbit.com
Sensors and Components
GPS
3-axis accelerometers
3-axis gyroscope
Digital compass
Optical heart rate monitor
Altimeter
Ambient light sensor
Vibration motor
Display
Touch screen
Monochrome LCD
Backlight for low light visibility
Bike Tracking
When using bike tracking, always pay attention and mind the rules of the road.
What's Included
Charging cable
Wireless sync dongle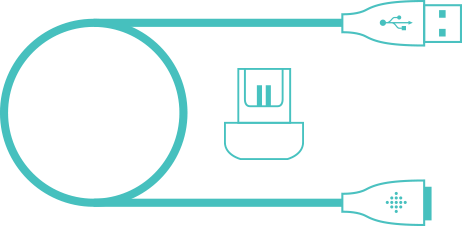 Water Resistance
Surge has been tested up to 5 ATM meaning it is sweat, rain and splash proof. However, the device is not swim proof. We also recommend taking Surge off before showering because, as with any wearable device, it's best for your skin if the band stays dry and clean.
Care
If the band gets wet or if you sweat in it, remove and completely dry the band before putting it back on. Clean the band with a mild soap-free cleanser like Cetaphil or Aquanil. Give your wrist a rest by taking the band off every now and then.
Materials
Surge's wristband is made of a flexible, durable elastomer material similar to that used in many sports watches. Surge also has a surgical-grade stainless steel buckle.
Heart Rate
Like all heart rate monitoring technologies, accuracy is affected by physiology, location of device, and different movements.
Battery and Power
We recommend charging your Surge every few days to ensure you are always tracking.
Battery life: last up to 7 days
GPS Battery life: last up to 10 hours
Battery type: Lithium-polymer
Charge time: One to two hours
Radio transceiver: Bluetooth 4.0
Environmental Requirements
Operating temperature: -20° to 45° C
Maximum operating altitute: 9,144 km
Memory
Tracks 7 days of detailed motion data – minute by minute.
Tracks daily totals for past 30 days
Stores heart rate data at 1 second intervals during exercise tracking and at 5 second intervals all other times
Sample rate for GPS is 1 Hz
Syncing
Surge syncs automatically and wirelessly to tablets, computers and 150+ leading iOS, Android and Windows smartphones using Bluetooth 4.0 wireless technology.
Syncing range: 6 m
Notifications: Text and call via Bluetooth 4.0
Music control: via Bluetooth Classic
Syncing to computers requires Internet connection and USB port
Syncing to mobile devices requires Bluetooth and Internet connection
Syncs with Windows Vista and later, Mac OS X 10.6 and up, iPhone 4S and later, iPad 3 gen. and later, and leading Android and Windows devices